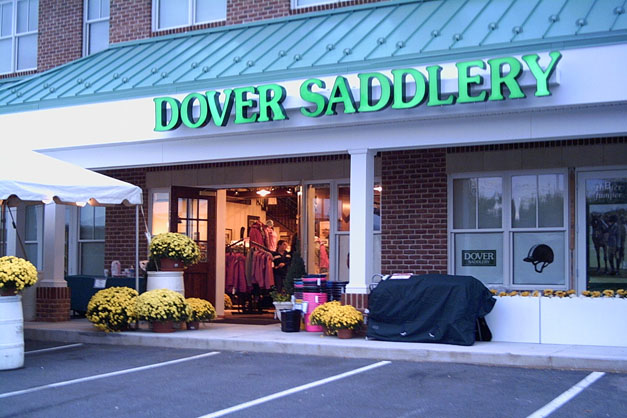 Dover Saddlery Hunt Valley, MD
10 Fila Way
,
Sparks
MD
21152
Hunt Valley, MD Store Hours
Monday - Wednesday 10:00 AM - 06:00 PM
Thursday - Saturday 09:00 AM - 08:00 PM
Sunday 11:00 AM - 06:00 PM
On Site Services
Knowledgeable equestrians at your service
Saddle fitting consultations
Custom fitting for riding boots and chaps
Custom fitting for riding helmets and eventing vests
Off Site Services
Clipper repair
Blade sharpening
Tack repair
Chap repair
Personalized name plates
Horse blanket wash and repair
Most boot repairs
Custom monogramming
Click Here to visit our sponsorship page.
Discussions at Dover: Equine Deworming 101
Join us for an equine deworming 101 seminar, Thursday March 14th from 6:30pm - 7:30pm. Presented by guest speaker: Dr. Kathryn Lacy, DVM.
Get Veterinarian-Prescribed Protocols for Managing Parasites in Horses and learn answers to the following questions:
Why your horse needs deworming
What is fecal egg count testing?
How parasite drug-resistance is changing the way we deworm
When to deworm and what to use
Help creating a deworming schedule
Light refreshments will be served.
PLUS a $5 gift certificate for each attendee!
Hunt Valley, MD Holiday Hours
Easter Sunday
Sunday 4/21: Closed
Memorial Day
Monday 5/27: 10:00 AM - 4:00 PM
4th of July
Thursday 7/4: 9:00 AM - 4:00 PM
Labor Day
Monday 9/2: 10:00 AM - 4:00 PM
Thanksgiving
Thursday 11/28: Closed
Black Friday
Friday 11/29: 9:00 AM - 8:00 PM
Christmas Eve
Tuesday 12/24: 10:00 AM - 4:00 PM
Christmas
Wednesday 12/25: Closed
New Years Eve
Tuesday 12/31: 10:00 AM - 4:00 PM
New Years Day
Wednesday 1/1: 10:00 AM - 6:00 PM