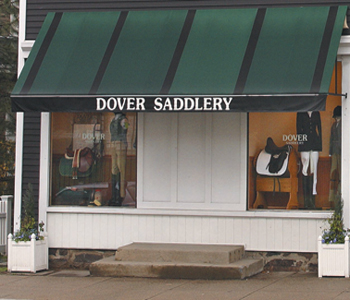 Dover Saddlery Wellesley, MA
595 Washington Street
,
Wellesley
MA
02482
Wellesley, MA Store Hours
Monday - Wednesday 10:00 AM - 05:00 PM
Thursday 10:00 AM - 07:00 PM
Friday - Saturday 10:00 AM - 05:00 PM
Sunday 12:00 PM - 05:00 PM
Wellesley, MA Services
On Site Services
The Dover Saddlery Wellesley flagship store was opened in 1975 by United States Equestrian Team members Jim and David Powers, both top ranked riders on the U.S. equestrian team. The Powers' focus on quality resulted in Dover Saddlery earning its reputation as a premier, upscale brand in the English riding industry and became every riders Source.
From its inception, Dover Saddlery has always put the needs of the horse and rider at the core of every decision made. Only at Dover you'll find a product selection so broad that it encompasses 25,000 products ranging from entry level to the most advanced rider's needs. We offer hundreds of quality innovative products designed for performance each year after working with suppliers all over the world. Our team of In-house equestrians ride in the products we carry to be sure they deliver to the standard as promised and everything we sell is backed by the best guarantee in the business.
Knowledgeable equestrians at your service
Saddle fitting consultations
Custom fitting for riding boots and chaps
Custom fitting for riding helmets and eventing vests
Please be aware that not all items are available in every store - Please call ahead to check available inventory.
Off Site Services
Clipper repair
Blade sharpening
Tack repair
Chap repair
Personalized name plates
Horse blanket wash and repair
Most boot repairs
Custom monogramming
Click Here to visit our sponsorship page.
Wellesley, MA Holiday Hours
Easter Sunday
Sunday 4/17: Closed
Memorial Day
Monday 5/30: 10:00 AM - 5:00 PM
4th of July
Monday 7/4: 10:00 AM - 5:00 PM
Labor Day
Monday 9/5: 10:00 AM - 5:00 PM
Thanksgiving
Thursday 11/24: Closed
Black Friday
Friday 11/25: 10:00 AM - 5:00 PM
Christmas Eve
Saturday 12/24: 10:00 AM - 4:00 PM
Christmas
Sunday 12/25: Closed
New Years Eve
Saturday 12/31: 10:00 AM - 4:00 PM
New Years Day
Sunday 1/1: 12:00 PM - 5:00 PM